Learn About Our Manufacturing Capabilities
Our manufacturing capabilities include, but are not limited to:
Polytetrafluoroethylene (PTFE), more commonly known by its trademarked name Teflon, is a synthetic fluoropolymer which has numerous applications. It has an extremely low coefficient of friction; is very non-reactive, and is often used in containers and pipework for reactive and corrosive chemicals.
BENEFITS OF PTFE PROPERTIES
Food Handling Applications
FDA and 3A sanitary compliant
Suitable for direct contact with food
Chemical resistance allows cleaning without solution absorbing into material
Material can be used in applications with constant operating temperature of up to 500º F
Low coefficient of friction make product suitable for ease of cleaning and less wear on bearing surfaces
Application Currently Supplied as:
Bearing
Shaft seal (Dynamic and Static)
Shaft wiper ring
Coupling and Fitting seals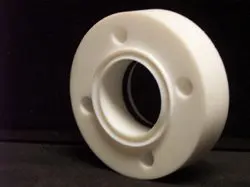 The dielectric constant property of PTFE shows less change over a wide range of temperature and frequency than any other solid material. This property inherently makes for an excellent long term insulator. The dielectric strength of this material allows the user to insulate high voltage with relatively small cross-sections of material.
Application Currently Supplied as:
Insulating bearing
Insulating piston rings
Insulators
PTFE is considered one of the most chemically inert solids and remains so up to its upper temperature limitations of 500º F. Few chemicals are known to react with this material.
The molecular structure of PTFE also creates inherently good material properties for: absorption rate, permeability, low surface adherability and low friction properties.
Application Currently Supplied as:
Air conditioning control valve seal
Air conditioning piston rings
Hydraulic fluid seals
Hydraulic fluid shaft seals
Elastomer backup rings
Fuel valve seals
Fluid handling control valve seals
Hydraulic Seals and Gaskets: Why Prolon Is the Best Choice
If you're looking to buy hydraulic seals, you've come to the right place. Prolon can help you decide which PTFE or engineered plastic hydraulic gasket best meets your needs or help you design custom seals from the ground up.
At Prolon, we welcome new challenges and helping to solve your problems. From concept to final product shipping, our engineering, sales and manufacturing branches work closely with clients to create the most cost-effective and reliable hydraulic components available.
Each year, we supply millions of standard hydraulic seals to industry partners through seamless manufacturing and delivery. In-house control over each step assures our customers they're getting the best that money can buy.
Prolon uses the latest CNC machining technology. But beyond the standard technology, we optimize our process to make your unique custom hydraulic seals.
Focus on Precision: Statistical Process Control
Once prototype hydraulic seals are approved and production begins, quality control becomes the primary focus. A well-designed gasket must be manufactured precisely so it performs as expected in the real-world setting.
Reliability and consistency are assured through the use of statistical process control (SPC). Descriptive analysis is performed at every step in gasket manufacturing, and this information is used for continuous process improvement. Once the process is stable, SPC keeps a close eye on hydraulic seal tolerances to maintain super high quality. We strive to meet our customers' sophisticated demands.
The Right Choice for Standard or Custom Hydraulic Seal Products
With the diverse services and products we have available, we can meet your needs through standard products. If your needs are unusual, we'll walk with you through the whole custom design process from start to finish.
Precise statistical process control, industry standard materials, reliability and consistency combine in our unique products. We're committed to bringing you quality hydraulic seals that satisfy your current requirements and help your company grow into the future.