Customer-Specified Plastic Parts We Manufacture
Hydraulic Seals and Gaskets: Why Prolon Is the Best Choice
If you're looking to buy hydraulic seals, you've come to the right place. Prolon can help you decide which PTFE or engineered plastic hydraulic gasket best meets your needs or help you design custom seals from the ground up.
At Prolon, we welcome new challenges and helping to solve your problems. From concept to final product shipping, our engineering, sales and manufacturing branches work closely with clients to create the most cost-effective and reliable hydraulic components available.
Each year, we supply millions of standard hydraulic seals to industry partners through seamless manufacturing and delivery. In-house control over each step assures our customers they're getting the best that money can buy.
Prolon uses the latest CNC machining technology. But beyond the standard technology, we optimize our process to make your unique custom hydraulic seals.
Focus on Precision: Statistical Process Control
Once prototype hydraulic seals are approved and production begins, quality control becomes the primary focus. A well-designed gasket must be manufactured precisely so it performs as expected in the real-world setting.
Reliability and consistency are assured through the use of statistical process control (SPC). Descriptive analysis is performed at every step in gasket manufacturing, and this information is used for continuous process improvement. Once the process is stable, SPC keeps a close eye on hydraulic seal tolerances to maintain super high quality. We strive to meet our customers' sophisticated demands.
The Right Choice for Standard or Custom Hydraulic Seal Products
With the diverse services and products we have available, we can meet your needs through standard products. If your needs are unusual, we'll walk with you through the whole custom design process from start to finish.
Precise statistical process control, industry standard materials, reliability and consistency combine in our unique products. We're committed to bringing you quality hydraulic seals that satisfy your current requirements and help your company grow into the future.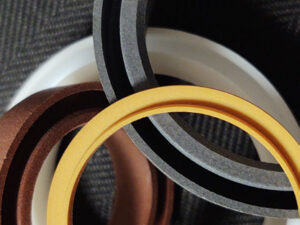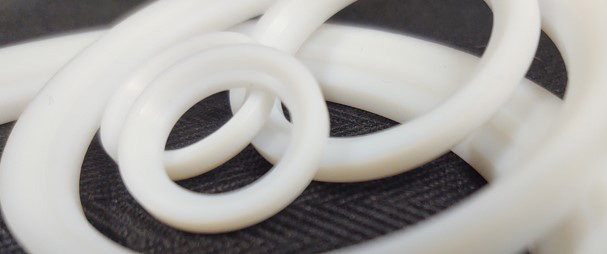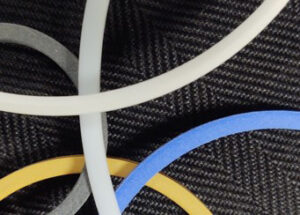 Valves - Lubricity, Chemicals Resistance, and Temperature

Ball Valves - seats, seals, packings and thrust washers
Refrigerant Control Valves - piston rings, seals, backup rings or washers

Automotive - Chemical Resistance, Low Co-efficient of friction and high temperatures

Struts - wafers or seals used to allow the piston to move up & down
Brake/Steering/Fuel/Hydraulic Systems - seals and pistons rings for sealing
Engine and Transmission - Seals

Refrigeration / AC - Freon Gas

Control Valves - piston rings, seals and washers (rings)
Seals in assemblies or piping systems

Microwave Systems - Insulation
Fluid Power - Chemical, Lubricity, & Heat Resistance - SEE AUTOMOTIVE

Hydraulic Cylinders - backup rings
Hydraulic Motors - backup seals, shaft seals
Air/Pneumatic Systems - seals and rings

Fluid Transfer - Hazardous Chemicals & High Temperature

Pumps - Chemical- oil field, hydraulic, diaphragm, pneumatic
Envelope Seals & Gaskets - rubber inserts added for energizer
Pipes & Fittings - used in fluid transfers: chemicals, blood, milk, etc.
Seals between flange joints
Cryogenic Valves - seals

Fluid Sensor - Chemicals and Heat Resistance

Measurement Sensor - seals - in line systems for measuring flow/temp rates

Food Service Equipment - Chemical resistance, FDA Compliant, Heat Resistance & Lubricity

Conveyor Pizza Ovens - bushings & bearings
Commercial Pizza Ovens - molded blocks as slides

Medical Equipment - Chemical Resistance, Permeation Resistance, & High Temperatures

Oxygen Analyzers - seals & washers
X-Ray Equipment - bushings, seals, and bearings
Bottle Stoppers - plugs for medical containers

Semiconductor - Chemicals & High Temperatures (Process Equipment Manufacturers)

Equipment Manufacturers - seals, bearings, valve bodies, etc.
Wafer Boards - boards used to carry semiconductors thru cleaning process

Consumer Appliances - Small & Large

Small - Microwave bushings - temp/lubricity due to microwaves & high heat
Small - Bread Machine Backing Basket - bushing on bottom of basket wear kneader mechanism turns; requires high temp/lubricity/chemical resistance
Large - Washing Machine - scudder; bearing in the machine